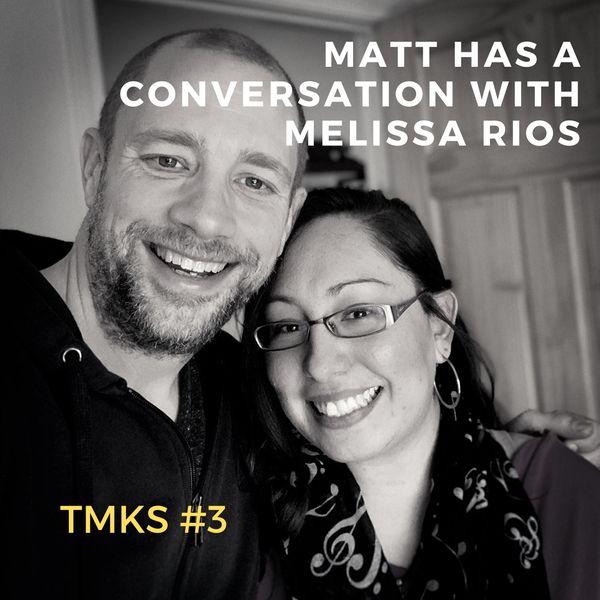 Guys! Welcome to the third episode of The Matt Kollock Show!
Three is one of the most magical numbers and Melissa Rios is one of the most magical musical people I know. In this episode, Melissa and I have a conversation that visits quite a few fun and interesting topics. You're going to dig it. I know it.
A Different Time
I had my conversation with Melissa back in January of this year. Things were much different then, weren't they? I was getting over a cold at the time. Maybe we were just getting the first hints of news that Covid-19 was going to be a thing. My voice sounds a little stuffed up and fucked up in this episode. Rest assured, I did not have ol' 'Rona.
Melissa's voice was on point. She brought her "A" game for this episode, that's for sure. She had a lot to say about growing up with music and developing her style. We talk a lot about mariachi and Melissa's formative experiences learning to play – and play with others – within the context of mariachi. I learned some things.
We also discussed what it's like to be introverted and the center of attention simultaneously. She and I have a similar view on that sort of thing, as it turns out.
Make It Funky
One of the reasons I love Melissa Rios's music so much is that she is genuinely groovy and funky. Yes, she is a highly proficient musician and singer. But it's her soul power that makes her special. I think that will be evident to you when you hear the two songs that bookend our conversation.
Melissa has two albums out right now, both of which are available wherever you get music. Now would be a great time to buy her albums; Melissa depends on live performances for much of her income, and, well, there are no live performances happening right now. So please do what you can, won't you?
Your Support Is Appreciated!
You'll probably want to know lots more about Melissa Rios after you hear our conversation. Good news! If you go to her website, you can learn everything there is to know about her and her endeavors. Buy some music while you're there, and check out the other podcasts she has appeared on. Like I said, she's a fantastic podcast guest!
If you'd like to support the podcast and all the stuff I'm up to, please consider supporting me on Patreon. Thanks! You're the best!
---