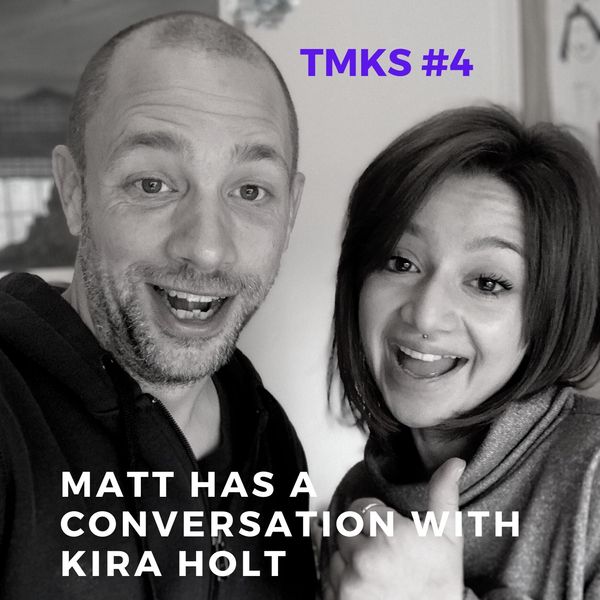 Friends, I hope you have enjoyed the launch of The Matt Kollock Show as much as I have.
It's been exciting assembling the first four episodes and sharing them with you. The show has been a blast to do thus far, and we are only just getting started.
Setting a Career in Motion
Speaking of just getting started, today's guest on the podcast is Albuquerque singer, songwriter and mashup artist Kira Holt. Kira and I are in different generations, but we are at more or less the same place in terms of where our respective careers are currently located. I just released my first music to the world. So has Kira. It's pretty rad.
Kira's music will be everywhere soon. She's put a lot of work into her new solo acoustic EP, and I'm pleased to say I've got my hands on a couple of the tracks. I share them with you on today's episode as bookends for our lovely, lively conversation.
Just Relatin'
It was fun chatting with Kira and relating on a variety of topics. She is yet another introverted performer type, much like me and much like episode three's guest, Melissa Rios. Like me, Kira grew up in a fairly rural area and moved elsewhere to pursue her goals and dreams. We also related with regard to mystical experiences and psychedelic stuff. It was a great talk and I know you're going to love it!
All the Other Ones
If you enjoy this episode, I encourage you to check out the other three 'sodes I released this week for the podcast's launch. In today's other episode, I spoke to the aforementioned Melissa Rios. I also had a lovely conversation with the duo Meri Dean in episode two. If you must know more about me and my whole deal, check out episode one. Good times!
People Helping People
Friends, if you want to learn more about Kira Holt and stay up to date with her music and everything else, the best place to stay connected is Instagram. Follow Kira at @kiraaholt, won't you? Also, please be on the lookout for her debut acoustic EP, which will be available soon wherever you get your music.
If you'd like to support this podcast and all my other endeavors, of which there are many, stay tuned to my website, which is where you are located right now. Oh yeah, check out the blog, too, which is where I post playlists and written ramblings. It's fun! Of course, I am on Patreon, too. Subscribe to me there to get exclusive content and early access to podcast goodies. Did you know that this interview has been available for a week already on Patreon? Yeah. It's true.
Okay, guys. I hope you stay safe and act smart. Be well. Get groovy. Support local artists. Be good. Call your mom. Stuff like that. Bye!
---