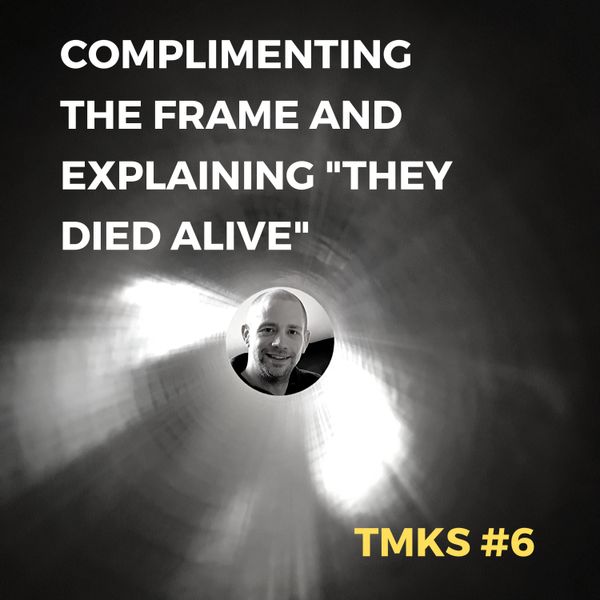 It's another episode of The Matt Kollock Show podcast!
This is a lean, mean episode, clocking in at fewer than 58 minutes, but it is packed with goodies, as always.
It's Tiny Desk Week
I wasn't sure if I was going to be able to pull it off with everything that's going on these days, but I was able to capture a pretty good performance of my song, "They Died Alive," for my entry into this year's NPR Music Tiny Desk Contest.
I recorded my entry this past Saturday, April 25th, and uploaded it yesterday. Today, April 27th, is the due date. So I got mine in well under the wire. But still under the wire.
In today's episode of the podcast, I talk about the experience of creating my entry and the surprising benefits I experienced from entering last year's contest. No, I didn't win. I don't expect to win this year, either. But I would be surprised if something nice didn't come from this. I wouldn't have met and become friends with Jason and Melissa of Meri Dean if I hadn't entered last year. And that's just one example of the kinds of things that can come from involving oneself in something like this.
By the way, if you haven't heard the Meri Dean episode of the podcast, you should check it out!
Wanna see my entry video? Here it is. Let me know what you think, won't you?
Song Explainer: "They Died Alive"
The main feature of today's episode is my explanation of "They Died Alive." If you want to know how I came up with this tune and what the lyrics are all about, you don't want to miss it!
'Rona Visions
I looked backward and forward through the lens of Coronavirus this past week.
In today's episode, I discuss how it may be possible Annie and I have already experienced Covid-19. It was a little crazy looking back at my journal from January and reexamining the three-week sickness I had.
Looking into the future on a psychedelic walk last week, I had a pretty strong vision of what the political/cultural landscape will look like as a result of the corona consequences.
This is all some very woo-woo, mystical shit, friends, so be careful!
Other Things
Today's edition of the podcast is a solo episode, but I had a lot to talk about.
Here are some other topics I blab about here in Episode Six:
People who are guilty of "complimenting the frame"
Episode Four's guest, Kira Holt, and her new EP, Gold Flakes, which is dropping everywhere this week
A psychedelic experience in the midst of sickness
All kinds of updates on all kinds of things!
Many, Many Thanks!
Six episodes! Unbelievable!
It wasn't that long ago when I was wondering if I would ever get the podcast out into the world. Now I've got a half-dozen eps. Good times!
Of course, none of this would be possible without you. I mean, yeah, I could put out a podcast, but it would be very unrewarding without listeners and supporters like you. So thank you.
If you are interested in helping the podcast (and all things Matt Kollock-related) grow, there are a number of things you can to help:
Easy!
If you would like to support me, great! If not, I really am just glad you're here. You are the best.
I'll see you next week with another 'sode. Until then, Shine on!
---