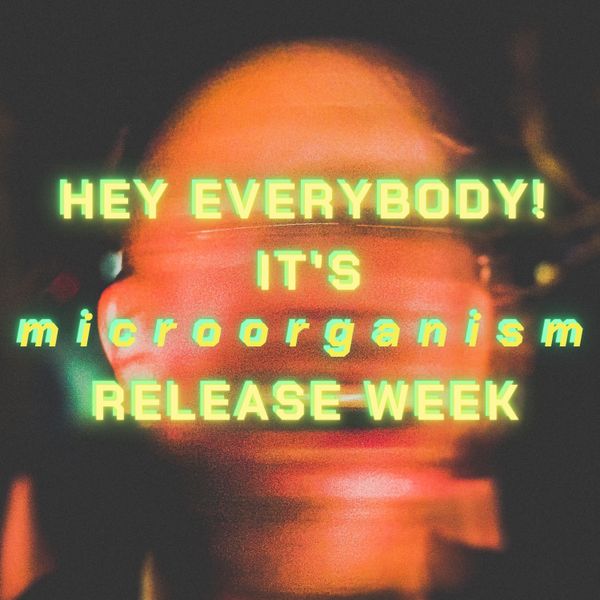 Holy crap!
It's really, actually happening – my debut solo album, 🦠microorganism🦠, is arriving in the world and onto all the platforms this Friday, May 14, 2021. I could not be more relieved and excited.
It's been a real ride. I thought it was going to be my quick, dirty, fast and cheap album; the one I made in about a month before getting into the making of my "real" album. Ha!
🦠microorganism🦠 is my "quarantine" album. It was created during the COVID Pandemic of 2020-2021. Conceived on March 14, 2020 and released on May 14, 2021. 14 months later. What's with the number 14?
Anyway, now that the album is done and in my distributor's hands, I am decompressing and unpacking the experience. And I'm going to use this space to provide some background on the album, its creation and the stories behind it. Fun!
This Website Is Going to Pop Off
The album will be available here on my website when it is released. You can buy it here if you want, which would be great! But you can also listen on your streaming service of choice. You can also pre-save on Spotify now! Or buy from Bandcamp. It's all good. I'm asking $7 for it.
In the days leading up to the release, I'm going to put out some podcasts, too, including the momentous EPISODE 20 of The Matt Kollock Show, which features a guest – my sweetie, Annie Sanchez. We are going to get into a great conversation about the making of the album and her fantastic contributions to tracks one and seven. Sweet! Episodes 21 and 22 will cover the other tracks and some of my notes/memories. It's going to be fucking great.
Stay tuned for all this great content!
Ending and Beginning
Thank you for being a part of the journey, sweet friend.
The release of this album marks the culmination of my music career's first phase. It began three years ago when I started writing bunches of songs. It continued through the last few years as I found my voice, discovered my real artistry and experienced my share of frustrations. There was the pandemic, too, of course. Damn. Now I'm releasing my debut solo album.
The journey is truly just beginning! The next phase is going to be really, really exciting and I hope you will continue to ride the flow with me. STAY TUNED!
---