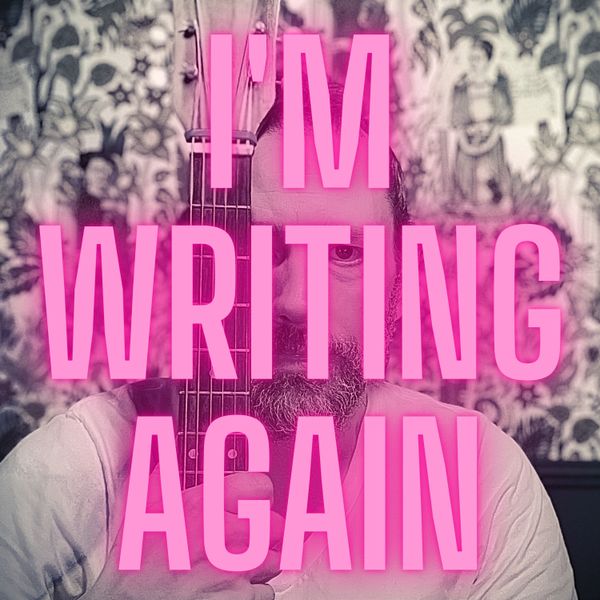 Hello. It's me, singer-songwriter Matt Kollock. I just remembered I have a website, so I thought I'd add some content. Let you know what's happening in and around my coordinates. Stuff like that.
Speaking of coordinates, they've really been changing. Rapidly. Dramatically. Hard to keep up. Currently down to about 35 degrees of latitude. Earlier this year it was more like 44. Damn. Over the century mark on meridians now, too. Got down to the 60s, though, in the first half of 2022. Coordinates, man. I'm telling you. Those current numbers place me in Albuquerque, New Mexico (again), by the way. Neat, huh?
Redirecting The Fire Hose Of Language And Thought
So yeah, I've decided to write again. Actually, I write every day. About 1,000 or so words. Private ramblings. Good to commit that stuff to the hard drive. Nice to have it available for future reference. Receipts. My history.
Now I feel the need to expose my thoughts publicly once again. After all, I am attempting to be some kind of public figure. So here I am. Logged in to the back end. Dipping my toes back in to the weblog waters. It feels nice. Really nice. Everyone should find an outlet through which they can express themselves authentically, don't you think?
People Fucking Love Bullet Points, I'm Told
I guess here's a little bit of what's been going on:
Annie, Mantequilla and I moved into a 21' travel trailer not long after I released my debut solo album, microorganism
Road life took us up to Montana, over to the west coast and back down to the desert again. It was a solid adventure. Not easy. But completely necessary.
About a year ago, we disconnected the Subaru from the trailer and trekked to the rocky coast of Maine where we spent the winter and spring in a very sacred AirBnB
I wrote and recorded a whole damn album up there in Maine. It's called Family Plot and it will be released in early 2023. Exciting! I can't wait for you to hear it. It's a musical exploration of childhood trauma and familial shittiness shone through the lens of heavy, heavy rock and roll music. I got to play the drums (in addition to every other instrument)!
The album will also feature a new spoken-word piece by Annie among its 20(!) tracks.
This is fun -- I purchased the Family Plot drum set in Portland, Maine in January. Started recording drum tracks in early February. Sold the drums to a fella in Atlanta, Georgia in August. Prior to acquiring the drums, I had not played in close to 20 years. A lot of hubris went into the decision to be my own drummer, but I think it turned out really well.
I did most of the mixing for the new album while living in Atlanta for the summer. I remember that life fondly. Working on cool tunes, enjoying the refrigerated indoor air, marveling at the diversity of flora and fauna species, rationing my cannabis expertly, watching What We Do In The Shadows in the tiny hours of the mornings.
Living in Atlanta -- which is a super goddamn magical place -- confirmed for me that I am a desert/mountain person. It's just a different flavor of magic. Atlanta is all trees and hills biological density with no visible horizon. It's all just too much to take in for a person like me! So that's a big reason why we returned to the Land of Enchantment.
I'm getting back into skiing after a two-decade absence. Honestly, this feels like burying the lede -- nothing occupies as much headspace these days as my return to the slopes. Anyway, Annie bought me a season pass for one of the New Mexico mountains. I've been acquiring gear and getting my body into shape throughout the fall. I'll probably head up to the mountain within the next couple of weeks to take a lesson and get my ski legs back under me. I've been talking about it for years. It's such a big part of me and how I move in my body. All my dance moves are rooted in alpine techniques. I started skiing well before I earned my first finger calluses from playing guitar. This is a huge development! More later.
Back to the theme of this weblog update -- I am writing songs again. A new batch. Not for any particular project or album, necessarily. But there is definitely a theme and motivating principle behind the new tunes. More on that later, too.
Gosh, there is so much else to report. But I think I'll leave it there. I've really changed since I last updated you. In many ways. I've also remained pretty static in many others. Life! There have been days characterized by crippling depression, regrets, self loathing and bile. There have been days characterized by awe, wonder, laughter and amazement, too. How about that?
On Platforms
Oh yeah, I've deactivated my primary social media accounts. Not sure if I'll get them back up and running again. I want to focus on this platform. So please stay tuned for all kinds of content in this space. Maybe. Tweet-length updates and fun photos. Things like that. In addition to traditional blog-style blog posts.
Until next time...
A Marketing Attempt
Fuck! What am I even doing here if I'm not trying to get you to buy my record and stuff? Right?
So yeah, my album, microorganism, is available to stream on all the platforms. Let's get those numbers to dance! And by dance, I mean increase!
Here's a really nice microorganism review Gote McDonald wrote for Albuquerque Green Room, in case you need your arm twisted a bit.
It is also available to purchase from the front page of this very website! Of course, you can also find it on Bandcamp.com. Nice!
I still have a Patreon, too. Not gonna lie -- it is pretty vacant over there. Haven't updated that thing since well before I transformed into the cool dude I am today. Nevertheless, I would appreciate your Patronage. It may entice me to post something. We'll see.
Finally, I consider ​​​​​​The Matt Kollock Show podcast to be a still-relevant property. Probably gonna bring that fucker back soon, too. I have some ideas. Until then, you can listen to all 22 episodes wherever you listen to podcasts.
Okay. That is for real everything. Bye now. I love you.
---