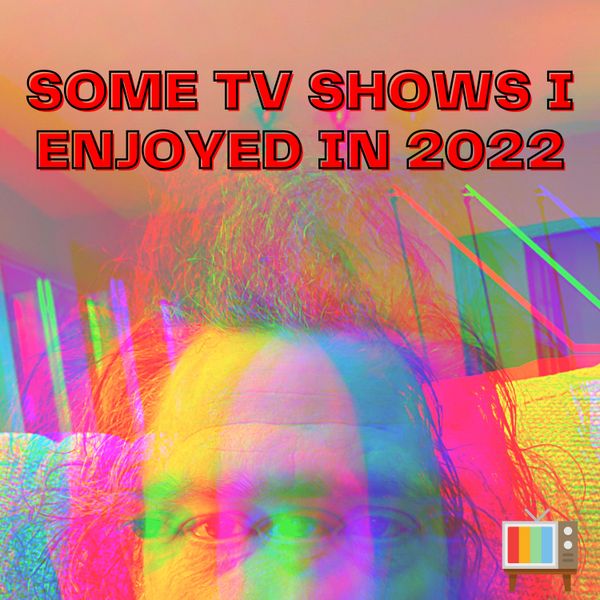 I had fun putting together yesterday's list of albums. So I decided to make another list today. This time about television programs I enjoyed in 2022.
My TV Life
TV used to be so important to me. Not that long ago, really. As recently as 2018, I was still considering myself a writerly person with aspirations to join the room of a good show. I watched a lot of TV, absorbing as much as I could. Plotting, pacing, character development, dialogue, etc. Developing a sense of what constitutes good TV writing vs bad TV writing.
I kind of hated writing, though. Yeah, I can write. I'm pretty good at it, even. But I really don't like doing it. I mean, this is cool. I've enjoyed writing the blog. Really, that's just my journal in public view. So it's no big deal. But writing as a job? For money? With all the pressure to produce? No thank you. I guess this is why I never finished those pilot scripts. Never even wrote a single chapter of that novel I was hoping I could use to help me acquire an agent. I did some outlining and daydreaming. Came up with some great concepts. But actual writing? Yeah, no. I guess it wasn't for me. Not even TV writing.
I think it's important to find the thing you enjoy that also inspires you to work hard. I enjoy writing. But I hate working hard at it. Lots of stuff like that. Music, though? That's the one thing. I can work at it tirelessly in sessions of epic durations without diminishing my enjoyment. It's how I know it's what I'm here for.
So I doubt I'll become a TV writer. I doubt I'll ever be that invested in joining the television industry again. I'm here for the music. Ride or die. And so TV becomes a nice diversion. A source of inspiration. An artform I can enjoy purely with no pressure.
The Ones Where I Didn't Feel Like Looking At My Phone
I enjoyed a lot of shows this year. Here is a list of some of my favorites. Just a list. You see, I don't feel like doing the work of writing commentaries. I have songs to write. Songs about TV characters. Songs about doing what one is here to do.
Let's get into it!
Better Call Saul
What We Do in the Shadows
Tokyo Vice
Severance
Reservation Dogs
Guillermo del Toro's Cabinet of Curiosities
House of the Dragon
The Rehearsal
Hacks
Winning Time: The Rise of the Lakers Dynasty (If not for John C. Reilly, this one might have ended up on the list below)
Barry
The Bear
The Disappointments
Just like with music, there is too much TV. Fuck! In fact, there's probably too much good TV out there. I feel like I miss out on so much. And yet, there is so much art and content I spend time with that doesn't hit me where it counts.
So now, just for fun, here are some shows I thought I'd like, but didn't. Some of which only held me for a single episode (if not less). Friends, when you know you aren't into something, it's okay to quit and move on to something else. Here's to the ones that might have been, but were not:
The Old Man
1899 (and I fucking LOVED Dark)
Shining Girls
Archive 81
Station Eleven (I loved the book, but ended up hate-watching the show through til the bitter end)
Industry (this one's on me; I was too tired to keep up when I started watching)
Pieces of Her
Future TV
It's nice to see all these end-of-year lists. Makes it easy to select the next things I wanna watch. Gotta be careful not to make that list too big. But I'm looking forward to finding the next thing. The next show that makes me wanna just sit with it, without picking up my phone or dissociating completely by going all the way inward instead of paying attention to the on-screen goings on.
I wonder what next year's list will look like.
What shows were you into this year? Anything from my list(s)? What should I watch in 2023? Let me know!
---