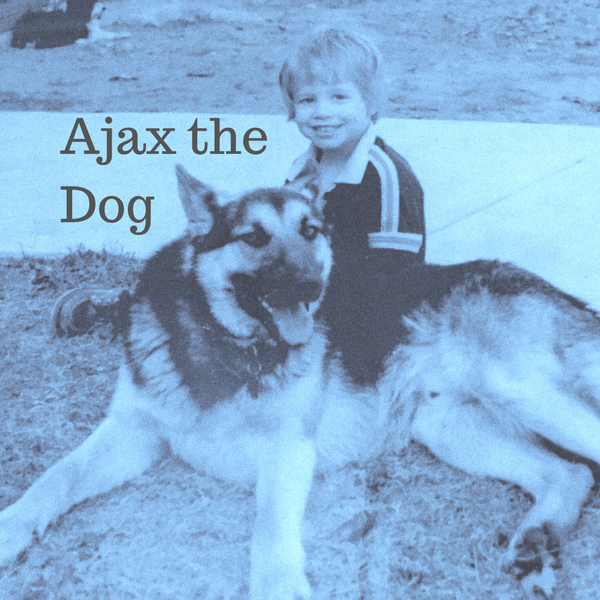 When I was three, my mom and dad drove me to a nearby farm to pick out a puppy. Or maybe the little German Shepherd fellow had already been selected for me. I don't know. I remember sitting on my mom's lap with my new dog on my lap as my dad drove the truck back home. I told my parents I wanted to name my new friend "Ajax." I remembered seeing an ad for Ajax cleaning products and the name was front and center in my child mind. There was something weird and cool to me about the j and the x hanging out together in the same name. And I knew I wanted my dog to have a cool name. Thus he was christened.
Ajax was, of course, a very good boy. Smart, courageous and loyal. A trusted family member and protector. Also just a cool dude to hang out with. I was told one of his grandparents was a wolf. He wasn't quite like all the other dogs. He had a kind of mystical, beating-drum-of-the-wilderness vibe to him. There were strange disappearances and evidence of rituals.
One day around the time when I started getting good at guitar I came home from school and noticed that his bed was no longer in the garage. He had been sick and not quite himself in the preceding days, so I had been preparing myself for the inevitability of the situation. Still, I was not ready to hear what my dad had to tell me when I entered the house. My old friend was in too much pain to continue living happily, so the decision was made to expedite the separation of his soul from his canine body. Thus the missing dog bed.
Resurrection
Years later when I was living 100 miles south in Madison, Wisconsin I started producing tracks for my first crack at a solo project. I didn't feel right about using my actual name at the time, so I decided to record the songs under the name "Ajax the Dog." This was in the early 2000s, so they went up on MySpace. I never really considered them "finished," but I was pretty proud of what I did all by myself. At the time I posted them to the MySpace masses I was just kind of ready to be done fucking with the songs. I was ready to move on to the next set of recordings.
I didn't really fuck with music too much after that, though. That's about when my troubles started. I spent some time playing guitar in a pretty cool band for a couple of years, but for the most part, the years following my Ajax the Dog days were pretty bleak.
Now we're here, though. Miles and miles away in all the ways.
I dug out an old hard drive recently and located the Ajax the Dog recordings. They're not bad! I was pretty ambitious with my production ideas back then, but the technology imposed some strict limits. So did my singing voice. Wow, that's come a long way since then! But really, my Ajax the Dog songs are pretty good. I stand behind them. I wonder what would have happened if I had not gotten myself into so many shenanigans in the middle of the aughts. I wonder if I could have polished these recordings and done anything useful with them. I wonder what you might think of them.
Something to Tide You Over
As I revealed last week in this blog post, I'm recording my solo debut album. For real. Under my own name. It's going to be a minute before that's available, though. So why not share my Ajax the Dog songs?
I uploaded these guys to SoundCloud a while ago and they've just been kinda sitting there. I think I wrote about them briefly in a blog post from last year, but never provided much in the way of context. But now I think it would be cool to consider these songs again as I work on surpassing their ability to represent the high-water mark of my recorded musical output. Consider them with Ajax in mind. Stuff like that.
So here you go:
Thoughts?
Well, what do you think? Any favorites or standouts? Any questions? Should I try to perform any of these in my current live show?
Contact me and let me know what you think, won't you? Thanks! See you next time.