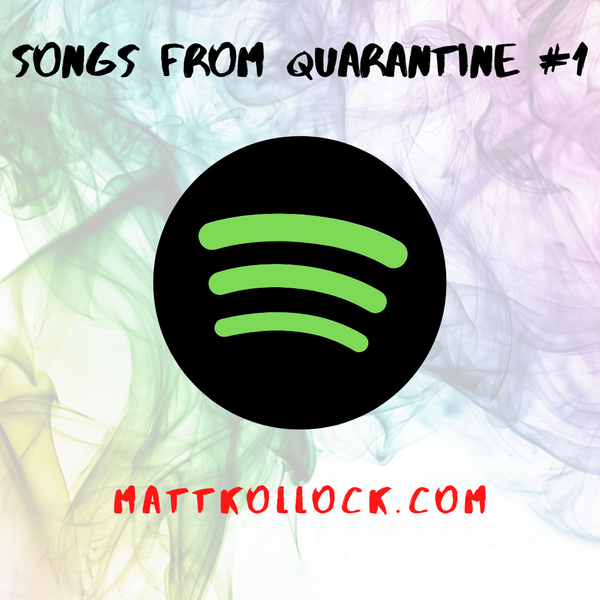 Hey.
What's going on where you are? Are you still working? Do you provide an essential service? Are you dealing with kids and older folks and just trying to keep it all together? Are you worried about finances and all the adult stuff? Yeah, me too.
Well, no, I do not provide an essential service. I am kind of still working, I guess, but it all seems so dumb now. But it's also still nice to get paid. So yeah. I've been doing some work stuff and keeping the money flowing in. Speaking of the flow of money, did you see this blog post?
Since St. Patrick's Day
I went out for the last time to get supplies on March 17th – St. Patrick's Day. I made, like, eight different stops. Since then, I've just been hunkered down over here at home in Albuquerque with Annie. Damn, we are so, so fortunate and privileged to be able to get through this time together. Without having to be around other people and potential virus vectors. With everything we need. We actually enjoy each other's company. But we also have more than adequate space to spend by ourselves. We are incredibly grateful for this reality.
Oh yeah, did I mention that St. Patrick's Day 2006 was the day I had my emergency appendectomy? 14 years! Good times!
Anyway, we are super grateful and fortunate. Doing what we can to help others. But still hustling to make sure we will continue to be all right.
I lost a major client last week. Annie has had to completely rearrange her business in numerous ways in the last little while. But we're doing all right. Really. Truly.
I've been able to make some music! I've been going live on Instagram most afternoons to play songs and chit chat and just have a good, wholesome time. I'm also making tremendous progress on a super-secret project that involves a handful of my original songs. I'm dying to share information on this project, but I just can't right now. But soon. Soon. The one thing I can tell you is that it's going to be brown.
That's in addition to the album, which continues to gestate. There's the podcast, too – The Matt Kollock Show – which I am going to make available next week some way, somehow. So good things are happening!
If you want to support me during this time and help me make more stuff, that would be awesome! Here's my PayPal link if you want to make a one-time donation. And below is the pretty button I have for my Patreon. Isn't it cool! Follow it over to the land of exclusive Matt Kollock content and subscribe for as little as $1/month if you feel moved to do so. Thank you, thank you, thank you!!!
Songs for Moving About Your Home
All right. Less talk, more rock!
Naturally, we've been listening to tons of music lately around the house and out on long-ass walks.
My friend Andy in Wisconsin suggested a recording by Phish, which is a band I've always wanted to get into, but just could not find a way in. Well, Andy lit my way in. I still have some reservations about the band, but something clicked for me while listening to their 1997 Amsterdam release. I love the jams!
Here's how I see it: I prefer the Grateful Dead for their songs. I actually don't give a shit about the jams, to be honest. But a nice, tight Garcia-Hunter tune, with a few solos by Jerry, is a pretty perfect recipe. Coked-up 1977 Dead is where it's at for me. Not that I don't appreciate other eras and styles. For example, I've been getting more and more into Pigpen-era stuff these days. I'm even beginning to find value in '90s Dead with Bruce Hornsby being all Liberace.
With Phish, I prefer the jams. The songs are just, like, fine. Often they are just too fucking cute. For me, that's hard to get over as a person raised on "serious" rock and roll values, but I'm working on it. I will be better for it. But the jams! They soar and move and provide galactic transportation services to the otherwise earthbound. Just really amazing. Great players. Great band.
Anyway, I got into Phish a little bit this last week. So I put one of their songs on the playlist.
There's also a bunch of stuff I played on Sunday when I had "church" here at the house while making breakfast. So that's where the run of spiritual songs come from.
What else?
Oh yeah, there are a couple of new Childish Gambino songs. Those are pretty cool. More Anna Calvi, who is a force as strong as gravity. More Sharon Van Etten, who keeps growing on me. More D'Angelo (natch). More Aretha. There are some other, less familiar, artists there, too.
All told, the playlist contains 66 songs and close to 6.5 hours of music!
Listen in order. Listen in shuffle mode. I don't care! Just have fun. Let me know what you think. I hope you dig it. Thanks!