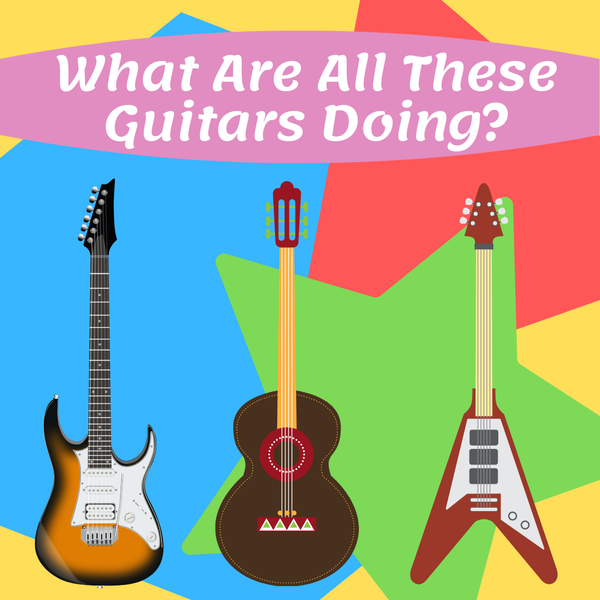 I am working on my solo debut album. Well, to be precise, I am working on writing a blog post about working on my solo debut album. And here you are reading it! I think I'm writing this to prove to you and me that what I've been doing with regard to my album constitutes progress. Even though I have not recorded a single note yet.
Anyway, the album in question, which may or may not be titled A Rich, Fulfilling Death, exists, but it is not yet available. I am currently imagining it. Visualizing it. Picturing it occupying space here in the "real" world.
In the future, it already exists. Which means it also exists now. Because time is an illusion.
Woo-woo shenanigans aside, real progress is being made on the album. I have selected the songs I plan to record. I have made some preliminary sequencing decisions, too. Instrumentation and arrangement are being decided now. And I've already had to make some tough decisions.
Unnecessary Axes
I love Brittany Howard and her whole approach to music and art. I was listening to her interview on the WTF podcast with Marc Maron and found myself feeling feelings when she talked about some of the artistic choices she's made. Brittany Howard is a fantastic and unique guitarist. She would have every justification for making her albums wall-to-wall GUITARMAGEDDON experiences. But her work as a member of Alabama Shakes, as Thunderbitch and as a solo artist is largely characterized by its spaciousness. She allows for quiet moments. She allows for songs to be driven by the rhythm section and the vocal. She is not fond of littering the aural landscape with avalanches of guitars. Crucially, when she considers a mix, she asks the question – and I'm paraphrasing here – "What are all these guitars doing?"
My approach to recording music has focused on the guitar as the primary instrument. Just listen to my Ajax the Dog stuff from 2004 and you'll hear what I mean. I am proud of that music and the way I brought it into the world. But these days I kind of don't give a shit about the guitar in the music I listen to. I care a lot more about what the kick drum is doing. And the bass. And the vocalist. Guitars, I have realized, just get in the way of the important stuff much of the time. And, thanks to Brittany Howard, I am okay with that now. I'm still a guitar player. I will continue to be a guitar player. I will devise ways to show off my skills and reveal the depths of my bag of six-string tricks. But I'm not going to do that shit at the expense of the groove. No way.
It's All in My Head
I am the type of person who benefits tremendously from visualization. So that's how I'm approaching my album. Sometimes it feels like I'm stalling or avoiding the work. But I'm really working my ass off. It's just all in my head.
As I mentioned, I have selected the songs I'm going to record and I've made some crucial decisions, arrangement-wise. Additionally, I've locked in the tempos for the songs, which was a big process; you see, I have fast and slow versions of most of my songs. So I had to decide which ones are going to be the barnburners and which ones are going to be the slow-glowing embers.
Another thing I'm working on is creating character sketches. From whose points of view are these songs being presented? Who are the characters singing these songs and what do they want? Why are they here? What's missing from their lives? All that kind of stuff.
These character sketches will inform the aesthetic production and arrangement choices I make. They will also help me with my vocal performances. This type of visualization work will get me into character, like when an actor puts on their costume and makeup and realizes they have no choice but to channel the new being they have become. I'm doing that with my songs, too. It's a technique that comes from the brief time in my life when I thought I was going to become a novelist. Ha! I've had some interesting ideas.
I've made a lot of progress in these areas. But it's hard to display. It's hard to show my work when it's all in my head. And it's not very impressive. It's like painting a room; not a single drop of paint has made its way to my brush. But I've prepped the room expertly, placed drop cloths and applied painter's tape with precision. The actual recording is going to be easy now. The songs are written. I know where their parts go. I know their contours. I know how they work. I am doing the thing.
This work will produce an artifact, and that artifact is still on schedule to be unveiled this summer. Good times!
I Don't Have Time to Be Complicated 
Since I have promised to release my album this summer, I need to be mindful of time and ambition. Keeping the guitars sparse is a great way to not get stuck in my own head about things. Whenever possible, I will play the simplest, most direct part. And if a guitar part doesn't give me goosebumps, it's probably not contributing appropriately. I will focus on bass and percussion. After all, those are the elements that make the people move their bodies. The guitar is often just a distraction. A pretty filigree. So if I'm not bringing the funk with my instrument, it is not a necessary part.
I just can't allow myself to get into the weeds with this project. I have to pump it out and remain in flow. I have to move on when I feel stuck. I have to err on the side of space. I have to be a bit of a minimalist. I don't have time to learn the secret intricacies of my recording software or become a MIDI master. I have to trust that what I know now is enough to make the magic. I have the songs. I have the music. I have the passion. I have the knowledge and skill. And I have just enough time to make this album the best-possible Matt Kollock solo debut album. So that's what I'm going to do.
But first I'm going to think about it all some more. I'm going to get rid of all the unnecessary guitar parts before I record them. And I am going to get into character. And I will cry on cue. And we will all work through our emotions and feel better when all is said and done.
In the Meantime, Don't Feed Monsters!
While I continue to gestate my solo debut album, I have a suggestion for your listening pleasure: My friends and musical collaborators in Meri Dean have released their new album. It's called Don't Feed Monsters, and it's now available to stream on Spotify and probably everywhere else.
Melissa and Jason worked extremely hard on this album of original music, putting it together in the midst of some pretty wild and crazy life changes. The album is fantastic and you should listen to it. Please note that it contains only tastefully arranged, completely necessary guitar parts.
Full disclosure: I do some singing on track two, "The Laurel Tree."
I Am Asking You to Patronize Me
By the way, I'm doing this mostly all by myself, but I am definitely not doing it alone. I am relying on the support of my fans – people like you – to get this stuff off the ground. All the energy being put into Matt Kollock projects today will return manifold in the near future. The energy is good. Big things are happening. And you can be a part of it by supporting me on Patreon.
Are you interested in learning more about how you can help me put my work into the world? Consider becoming one of my Patreon patrons! Just click the button below and go where it takes you. I have some really cool exclusive content for my patrons with much more to come. And all you have to do is pay me as little as one measly dollar each month. It's worth it; check it out!
I think that's all I've got for you today. I'm going to go work on my album and podcast and probably another blog post now. Oh yeah, and I need to practice. Gotta keep the chops up. So many balls in the air. I wouldn't have it any other way.
See you next time!