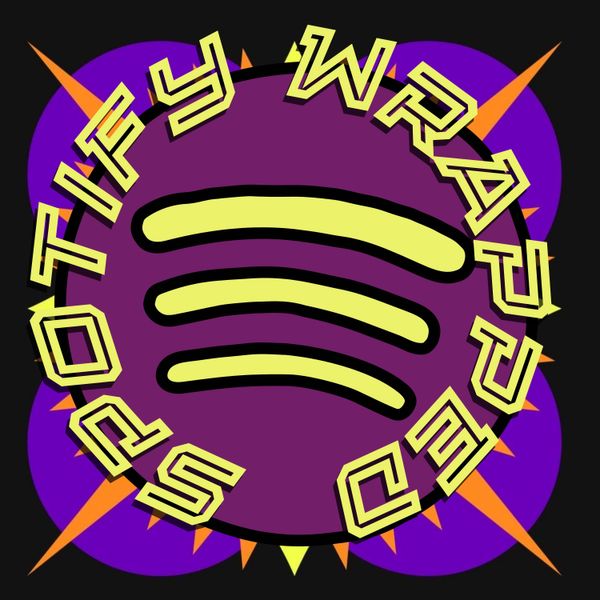 Today was the day Spotify unleashed its annual Wrapped feature to listeners and artists. November 30, 2022. With a month left to go in the calendar year. What happens to the music we all listen to in December? Does it get rolled into the next year? I wonder.
A Hard Year For Music Listening
My music listening this year has been a little weird. Out of the ordinary. For most of 2022, I've been immersed in heavy music. Hard rock, punk, metal, glam metal, hardcore, grind, grindcore, doom, doomcore, etc. A lot of the music of my mullet-headed teen years came back as I worked on creating the sound of my upcoming sophomore album, Family Plot. And a lot of the heavier stuff I've grown to love over the years was in regular rotation, too.
Family Plot is a loud, abrasive guitar album with heavy drums and a lot of extreme vocal performances. I needed the hard stuff to help me to get to the good places. Hit those spots.
I also just listened to regular music like I do, regularly. All the usual favorites. Comfort-food for my ears. The Weens. The Grateful Deads. The Stevie Wonders. The Fiona Apples. Interesting mix of stuff.
Here's my official "Top Songs of 2022" Spotify playlist
Last.fm has been a wonderful resource with regard to keeping track of my listening. It doesn't track perfectly, but I believe it most of the time. Interestingly, there are some differences between my Last.fm stats for the year and the Spotify Wrapped numbers I received today. Have a look!

As you can see, yeah – Mötley Crüe. Umlauts and all. Goddamn. Weird. I thought Ween was going to be up there in the top slot. And where are the Melvins? And how did Led Zeppelin get in there?
Let's take a look at the Last.fm list and see how it compares:

Okay. So yeah, that's where the Melvins should be. What happened with the Wrapped list, though? Such mystery. Led Zeppelin is not even in my Last.fm top ten. Did Peter Grant emerge from his grave to go on one more coke-fueled tirade in the service of boosting LZ's standing in the industry? Seems about right.
Also notable is how the bottom five of the Last.fm top ten differs from the top five. Wrapped doesn't really come close to telling the whole story when you consider this. That stuff was just the top layer. A sludgy, brutal layer with studs and spiky hair and attitude. Huh. Honestly, I'd rather spend time with the rainbow coalition that is the bottom five of this year's list.
Matt Kollock The Artist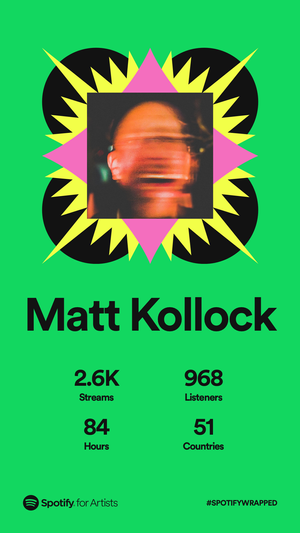 Because I have content available to stream on Spotify, I get a double dose of Wrapped each year. This is my second year receiving the artist update, which is just as intriguing as the listener update. I'm glad I have some numbers. I know a lot of artists are just not streamed enough to generate the annual report. Of course, a lot of my listens have not been legitimate.
Numerous bots on streaming bot farms have gotten hold of my songs since microorganism has been released. I think they've been poaching songs off of the Distrokid Wheel Of Playlist playlist. See, Distrokid is the service I use to release music and ensure that it's distributed to the various Digital Service Providers (DSPs) like Spotify, Apple Music, Deezer, etc. Artists who use Distrokid for this service can go online every day to choose a song to be added in a random position to the Wheel Of Playlist, so called because inclusion requires artists to spin a digital prize wheel. So there you go.
Anyway, I've been putting songs on that playlist. Mostly "Everybody's Got A Beard Of Bees These Days." One day last year, that song just started blowing up. Thousands of streams all of a sudden. From far-away places like Frankfurt, Naaldwijk and, uh, Buffalo. All of which, as it turns out, are cities where playlist bot farms live.
The idea is artists are desperate to be included on playlists because playlists are what people listen to. It's how they discover new music, at least according to conventional wisdom. Inclusion on an influential, heavily listened to playlist is worth a lot to a lot of artists making music in the streaming era. It seems like the perfect way to cut through the noise. So many fucking artists releasing so much fucking music all the time!
So a lot of people pay for inclusion on these bot playlists. It gives them huge boosts in streaming numbers. It creates a certain appearance, even though it does not involve a single person ever listening to the music in question. The administrators of these bot-farm playlists, I've learned, include filler songs on these playlists, often drawing from the aforementioned Wheel Of Playlist. The idea being that artists will see the huge boost in numbers, and then will want to pay to keep the party going.
Unfortunately, those numbers are nothing more than vanity metrics. They really don't mean anything in terms of an artist's level of traction, success or importance. Better to look at followers. Better to look at the number of minutes people listen to that artist's music. If you dig deeper into my numbers – and it's really not that deep – it's easy to see that all those numbers seem to be coming from siloed "listeners" who listen once and then never "listen" again. And they rarely "listen" to the whole song. Do the math. It's embarrassing!
Thankfully, "Beard Of Bees" is starting to take off a little bit in a legitimate fashion. It's getting added to real playlists that real people actually listen to. It takes time.
So yeah. All that to say these numbers tell lots of stories, many of which are not the stories they purport to tell at first glance. 
What I Want For Wrapped 2023
I want to see a more accurate reflection of my listening. I want my listening to reflect my values better. Too many fucking white dudes hanging out in my ears. Nothing against white dudes who make music – I am one! So, better for me to listen beyond the scope of my narrow white-man perspective. I want to see artists who work in languages other than English. I want to see more modern artists. Fewer genres with "rock" in the name. Stuff like that.
As an artist, I hope my reach continues to grow with more legitimate listeners and fans. I'll have a new record out in the coming year, which will enrich the soil of my career by basically quadrupling the number of tracks I have available for streaming. More numbers. I want to reach different audiences. I want to see those audiences spending more and more time with my music. I want to be the favorite artist of more fans. All this kind of stuff. I feel good about it.
Until next time, I encourage you to listen to my music on Spotify. Help me jack those numbers up, won't you? microorganism still sounds good. I'm proud of it. "Giving The Game Away" and "Undercover All Along" could really use some help, in particular. Oh yeah, and then make sure you follow me. That way you will be informed immediately as soon as I drop the rockin' Family Plot in a few months. Nice! Thank you in advance. I love you.
---