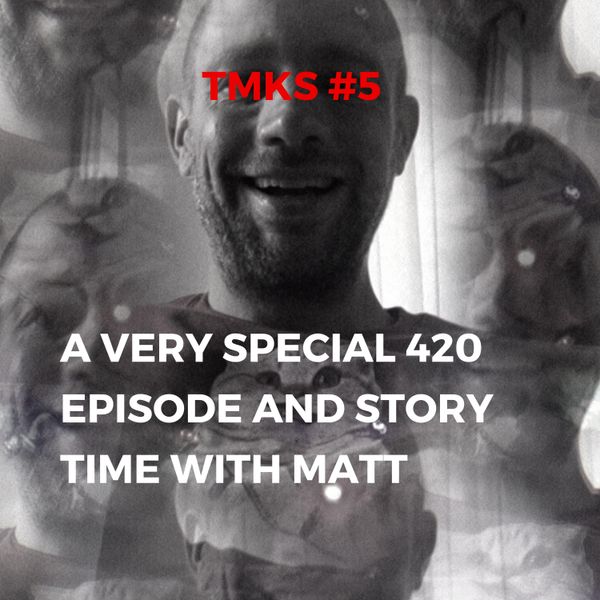 Hey guys.
It's a heavy time, isn't it?
For me, this time of year is particularly heavy. Of course, we are in the midst of the high holidays. Yesterday was Bicycle Day. Today is 4/20. The world is charged with psychedelic, mind-shifting energy. I'm thinking of where I am today. And I've thought a lot about how I got here.
Today's podcast is about that journey.
A Brother, A Friend, A Dog, A Spiritual Awakening
Today's episode of The Matt Kollock Show is all about me, Matt Kollock.
In today's episode, I get into my history and relationship with the high holidays in April. I talk about the relationship I had with my late brother, and how his life and death and spiritual awakening give meaning to my life as a spiritual person and psychedelic wonderboy. I also get into the story of my companionship with a friend who was also a podcasting co-host.
Remember The Blackout Flash Forward Podcast with Gunns & Pitti? Yeah, it's probably good that you don't, actually. But that was me and my friend. A lot has changed since April of 2010 when I had my first go-round at podcasting and now.
This episode tells the whole story.
The Big Fight
I got into a confrontation with my neighbors over the weekend. And it's all related to the other shit I talk about in this podcast. God, I hate confrontation! But there I was.
If you want to hear my story of moving to New Mexico and transforming my life from one of sedentary loafing to one of active exploring and creating (and getting into it with my neighbors, apparently), you're in the right place!
Thank You, Thank You, Thank You
Friends, I am nothing without my audience, so thank you for being here!
The launch of the podcast has been very successful, and I'm empowered with the knowledge that you guys are digging the show thus far.
I love that you're listening! But if you want to do a little more to help this podcast reach a wider audience, please consider becoming a Patreon Patron for as little as $1 a month.
You can also simply rate and review the podcast on Apple Podcasts, or wherever you listen.
Thanks, guys! I hope you are having the 4/20 you need to have.
---