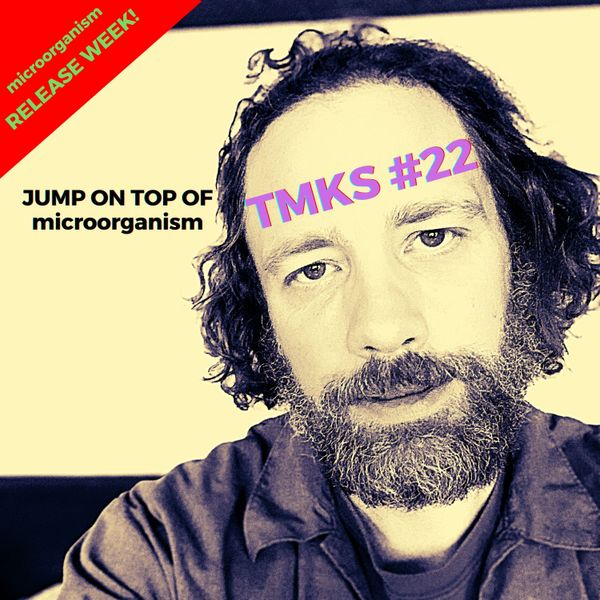 microorganism is one week old! Oh my god!
Welcome to episode 22 of The Matt Kollock Show!
In this final installment of the album's oral history, I get into what it took to finish the album in the final months of its creation. Big stuff! All of a sudden, the one-year anniversary of quarantine was approaching – and passing. Would I get the fucker done?
Yeah, of course I did! And now the album has been out for a whole week. What? What's going on with time?
This episode of the podcast also dives really, really deep into the final two tracks on microorganism: "Jump On Top Of The World (With Me)" and "Everybody Ascends." Nice! The wonderful and lovely Annie Sanchez returns in this one to talk about writing and performing "Everybody Ascends." Lots of insights!
I'm assuming you've listened to the previous two episodes of the podcast. Have you? If not, check out these guys:
TMKS # 20 – Everybody Needs To Ascend (feat. Annie Sanchez)
TMKS #21 – Everybody Gives Bees Along
Also, have a look at this blog post, which lists all the places from which the album can be streamed and-or purchased. Groovy!
One of the plot points in today's installment of the story revolves around my friend Jasmine's Archives for Aliens podcast. Listen to episode 14 (the one I'm a guest on) wherever you get your podcasts. Here's the Spotify link. Check it out!
So, So Many, Many Thanks, Thanks
Wow! We have reached the conclusion of microorganism Release Week. I'm really happy to be here. I'm glad you're with me. I am ready to take a break now. This has been a lot. But it's also been a top-ten highlight of my life. Making the album. Putting it out. Telling you all about it. Having you tell me all about it. This is the shit.
Oh yeah, I mentioned my distributor, Distrokid, in this episode. If you have some music you want to release, I encourage you to use their service! It's reasonably priced and highly reliable. It just works! Here's a link you can use to get 7% off!
I am really grateful, friends. For those of you who have been with me. For those who are no longer with me. For those who have yet to be with me. I love you all. Thank you.
If you'd like to continue your support as we move forward, please continue to listen to the album. Purchase a copy if you can and if you haven't already. We're trying to sell 700 of these and we have more than 600 sales to go to get there! Tell your friends! All that!
You can buy the album here on this website (it's right on the home page!). Or you can choose your price (as long as it's $7.00 or more) on Bandcamp. It's all good. I appreciate your support and your kind attention!
I've got plans for upcoming recordings! I can't do it without some resources, though. This is where Patreon comes in. Please consider supporting me there, won't you?
All right. That's all I've got. Thank you for listening to the show!
Stay tuned for more adventures on the podcast. Some really, really good shit is about to happen. Watch this space!
---