ONE
It's about freedom. And it's about the safety required to feel free. It's remaining upright, yet flexible while being unafraid to fall. It's the thrills and the chills, if not the spills. There is a rhythm to it – especially if you're doing it just right. It's about leaning forward and letting go. It's about taking straight lines and making curves of them. There are ups and there are downs.
I went skiing yesterday after a two-decade absence. I can't believe it! I've been thinking and talking about skiing for years without ever building the means or ambition to make it happen. Now it's happened. I'm back. It feels like harmony. A new-old mechanism that integrates perfectly into my finely tuned personal rhythm machine.
This year, Annie bought me a season pass to Ski Santa Fe, which is about a 90-minute drive from our home. Then I accumulated some gear. So much gear! Jesus Christ! The final pieces – a helmet and goggles – were acquired over the weekend. With the mountain having opened last week on Thanksgiving, there were no more barriers in the way of me returning to the sport.
TWO
So I drove up there yesterday. Just me and all my gear. All my layers of clothing. An immediate stop was made at Blake's Lotaburger so I could acquire a chorizo breakfast burrito to eat on the Interstate. And my god, that was one of the best, freshest and most generously filled burritos I have ever eaten. Listened to Bob Lefsetz talk to Steve Schnur about music in gaming on the way up. Fascinating stuff. Makes me think I need to make some friends in the gaming industry.
Excited. Nervous. Would I be too hot? Too cold? Were my boots going to be comfy? Would my goggles fog up? Would my rental skis stand up to the rigors of my rusty technique? Were my snow pants going to descend around my ankles mid slope, causing me to veer off course into a tree, resulting in a concussion or worse? There was a lot to think about on the way to the mountain.
Upon arrival, an employee directed me to a conveniently located parking spot. Sunny. Just a few clouds in the sky. I could feel the elevation a little bit in my lungs. Put my boots on. Helmet and goggles. Decided against the thermal layers. Just shorts and underwear under my snow pants. Just a T-shirt under my coat. It was about 30 degrees and that felt right to me. Decided on the little gloves over the thick mittens. Decided not to wear my hydration pack under my coat, as had been the plan previously. Figured I would just get water in the lodge on my bathroom breaks and then chug after.
Walking with ski boots is no easier than it's ever been. Honestly, I am more concerned about getting injured walking around in those fuckers than I am when they are clipped safely into their bindings. And my boots do not feature "GripWalk" technology. Thankfully, the walk to the snow was mercifully short, though it included more stairs than I would have liked.
So there I was. Pass paid for. All my gear. They're really going to just let me do this? No one is going to stop me from getting on that chairlift and skiing down the mountain? No one is going to check my abilities or credentials? Fuck! A little scary. A lot free.
I almost fell on my way from the ski rack to the beginner chairlift. But then my body just kind of took over. My muscles have regenerated about three full times since the last time I skied, and yet they were able to guide me gracefully into the chair – and out of it once I reached the top of the novice trail at the lift's terminus. I remembered the fundamentals. The snowplow. The wedge. Pizza and French fries (culinary delights of the Alps!). The shifting of the weight and the twisting of the hips. The lean. The trusting of the body. The perspective of facing down the fall line.
Starting out, it was wedge turns and balance calibration. Then I started trying some stuff. Feeling a sharp increase in confidence. Amazing. It really is just like riding a bike. But instead of a bike, there are skis attached to the feet. I found my rhythm. Three times down the bunny hill. Then a bathroom break. Then a trip up the big-person lift. To the top.
Only a few trails were open yesterday. A smattering of greens and a couple of blues. I skied every possible combination of them. I felt challenged here and there. It took me a bit to get used to the skis; technology has transformed the equipment considerably since I last skied. Turns are easier. Which kinda makes them harder, in a way, because it requires an adjustment of expectations. I noticed difficulty trusting my left leg to carry me through right turns as confidently as my right leg carries me through left turns. That was the main thing I worked on. I noticed the rental poles were a little too long. Cumbersome.
No falls. Many close calls. Always checking back in with technique. Keeping the joints flexed, loose and ready. Trusting the skis to carry me through the carves of their turns. Butt above ankles. Staying out of the way of the other mountaineers. Remaining alert to their presence. Being responsible for my line and my speed.
My fucking quads. Goddamn. On fire. I am not in great shape. I am not in bad shape either. But I'm not in great shape. I could use some cardio. I could stand to do some more squats and lunges and things. Of course, there is the aforementioned elevation. There is also the being 46 damn years old. So I'm all right, really. I stopped when I needed to stop to catch my breath. I alternated challenging runs with nice, easy glides down the green circles. I made sure to stop and drink water. I ate a Lärabar.
I even caught a little bit of air a couple of times. Wasn't sure that was going to happen. Thrilling!
I would say it was about 60/40, snowboarders over skiers there yesterday. Interesting. Not very many people there at all, really. No lines on the lift. Didn't have to ride with anybody. Chair to myself every time. Nice! Most times, my heart was still beating fast from the run I had just completed when my butt hit the chair to begin the next lap.
Goggles didn't fog up or anything. Boots were pretty comfy. Probably going to have to adjust them a bit, but they are super snug and feel completely sturdy. Skis held up. Seemed to be set up properly. Helmet felt comfy and warm on my head. No falls. No dropping anything from the chairlift. No trouble, really. Just fun, thrilling and pleasingly fatiguing laps. 15 of them. Just over 13 miles skied. Just over 10,000 feet of vertical distance covered. Not too shabby!
Pretty cheap day. No food or beverages were purchased. There was the aforementioned Blake's burrito, but other than that, no beers or burgers or cheese sticks or fries chicken tendies or any of the other temptations offered by the mountain's food-service entities. I didn't rent a locker. Probably will next time. Got some gas on the way back. Ate a pre prepared cheese sandwich in the car on the drive home.
THREE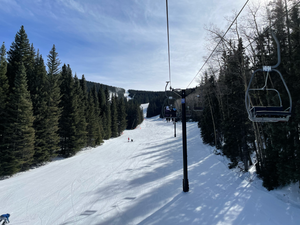 I'm pretty sore today. Yeah, I'm stoked and super eager to get up there again, but I'm happy to be home resting and watching YouTube skiing videos and writing about my adventures. Stuff like that. I wanna go again soon, but maybe after they open up some more terrain on the mountain. I also want to go with my friends. Actually, T and A kind of set this whole skiing thing in motion by talking about getting passes, which inspired Annie to get me one for my birthday. I think T might be taking this season off to focus on maternity (exciting!), but I'm looking forward to mountaineering with A (who is a snowboarder).
A few stoner boarders were making their presence known yesterday. I remained stone sober, however. I've never smoked grass while skiing. Never been drunk or even buzzed while skiing. Most of the skiing I've done in my life happened before I was worldly enough to have experienced the pleasures of cannabis, alcohol or any other mood-shifting substance. I guess I did have a couple of chairlift ciggies my last time skiing. Would've been Winston Lights, probably, which is what I fucked around with before I upgraded to the American Spirit yellows, which I smoked until I retired that particular habit.
That last time skiing was in 2002, I believe. It was before I moved to worldly Madison from rural Stevens Point. While I was still playing the blues with those bigots in that toxic band. It was an all right time of life, all things considered. Before the most acute symptoms of my traumas had developed and revealed themselves fully. After I lost quite a bit of my faith and confidence, though. My daughter was in the world by this time. I was not welcome in her world by her all-of-a-sudden born-again mama and fundamentalist extended family. And honestly, I lacked the emotional intelligence and ambition to figure out how to weave my way into her life in spite of the wills of the simpletons surrounding her. But now that we're all adults, gosh it would be great if worlds could collide. This is something I need to figure out.
I digress. Back to winter sports. I love you, Cassidy.
So yeah. Skiing-wise, it was an odd set of circumstances. At that time, I hadn't skied for about five years, which seemed like an impossible gap to fill with muscle memory. My friend Kelly W., who was a co worker at Mills Fleet Farm, asked if I wanted to join her church group(!) for a weeknight ski session at Granite Peak Ski Area, near Wausau, Wisconsin. The geographic feature is called Rib Mountain (though it is not technically a mountain). The ski hill is called Granite Peak. I think the rebranding had just happened recently at that time.
Night skiing in the midwest. Damn. That's my foundation. That's how I learned. First at Nordic Mountain in Mt. Morris, Wisconsin. Then seasoned by the resorts of "Big Snow Country" up closer to Lake Superior. There was always talk of coming out to Tahoe or something. Just couldn't make it work, though. Fucking potato blight had a lot to do with the need to rein in those plans.
Some of my fondest memories come from my earliest experiences with skiing. Nordic Mountain had a thing where kids from my school could come out every Wednesday evening to ski (and rent equipment and take lessons) at reduced rates. Getting young people into the sport and stuff. I think there was a bus, but for some reason, my blessed dad would take me. Just me and him in the silver Chevy farm truck. Smoke from his Kent Golden Light cigarettes wafting out the vent window they don't put in cars nowadays. I would ski and he would sit in the "chalet" (as lodges are typically called at midwestern ski areas), sipping on a drink and sucking down more of those sweet Kent heaters.
I got pretty good skiing on that little hill. Not great. I got even better when we would go up to the bigger hills in the north. Still not great, but plenty adequate. Really, I didn't hit my groove until that singular night at Granite Peak in 2002.
I think I still had my own skis at that time. Grabbed them from the garage at my brother's house, if I'm not mistaken. Salomon 190s. Rear-entry boots with an adjustment dial on the back.
My first run down the bunny hill that night included a pretty awkward fall. But then I remained upright the rest of the evening. Did all the runs. Even the black diamonds. Felt like it was the best I had ever skied. And then twenty years went by before I was able to do it again. Fuckin' A.
FOUR
I hope Kelly W., my skiing companion that night, is doing well these days. Has she been skiing again? What's her life like? We did some cool shit and had a few rare interests in common back around the turn of the century. Took a trip to New York together; each of us with someone from Wisconsin to visit in the city. That was in April of 2001, just a few months before the whole thing happened and our world truly started becoming the place it is today with the dumb vibes it has today.
Of course, I moved to cosmopolitan, progressive Madison from the hinterlands. Grew up a lot down there. Also realized the depths of my depression and anxiety down there. Fucked up in so many ways down there. Got my car repossessed. Got evicted from my apartment. Relied on friends to take me in and tolerate me. All that stuff. I didn't think about skiing a lot back in those days. I was mostly concerned with a toxic combination of survival and self loathing. Which I managed to keep mostly secret for a long time. I did not want to upset Mother, you see. But I upset her anyway. I learned about the differences between conditional and unconditional love during that time. Tough lessons. I upset a lot of people, probably. Just imagine how upsetting it must have been for me!
I guess I don't need to tell my whole story here. It's all been told. You can find it right here on this very website, even, if you want to know more. Just gotta poke around.
So anyway... Here I am. Nice house with a nice sweetie making things nice for us. Us making things nice for each other. A nice kitty paws around and purrs. There's a big TV and a fireplace with plenty of firewood. Turntable. Some cool records and decent speakers. There's a dedicated music space. Good, healthy meals prepared with love using relatively unprocessed whole ingredients. Many comforts and lots of good fortune.
My partner and I are comfortable. We enjoy each other. We enjoy life. Lots to work on, yeah, but we're doing it. We know what we like. We know what we want. What we don't know, we're figuring out. Needs are met, for the most part. We're hosting Christmas this year. Taking on bigger and more influential roles. Growing up while growing together. Bringing our inner children along for the ride. And it's a good one.
And I'm skiing again.
---
A LITTLE MORE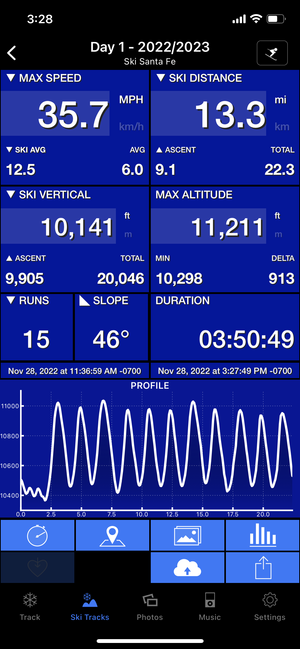 A day of skiing firsts. Yesterday was my first time:
Skiing in two decades
Skiing while wearing a helmet
Skiing since the major technological shift in ski design, which has taken place over the past 15 years or so
Skiing in the Rocky Mountains
Skiing in my forties
Skiing in the month of November
Skiing at an elevation of 10,000+ feet above sea level
Riding a quadruple chairlift
Having a cell phone available while skiing
Avoiding the exorbitant prices of foodstuffs and such at the lodge
Avoiding lift lines completely
Wearing sunscreen while skiing
Oh look – statistics! -------------->
I forgot to turn this app on (Ski Tracks, available for $1.99 in the Apple App Store) at the base, so it is not counting my initial chairlift ride. I'll do better next time!
At any rate, this is really interesting stuff. 35.7 miles per hour. The one time I went into the "tuck" position. Felt like 100 MPH. That was for Brother John. And I hear about people going 60 MPH. Fuck! I think I'm all right keeping my top speed below 40. But you never know.
And I skied more than the distance of a half marathon. That's kind of cool to think about.
Skiing!
---