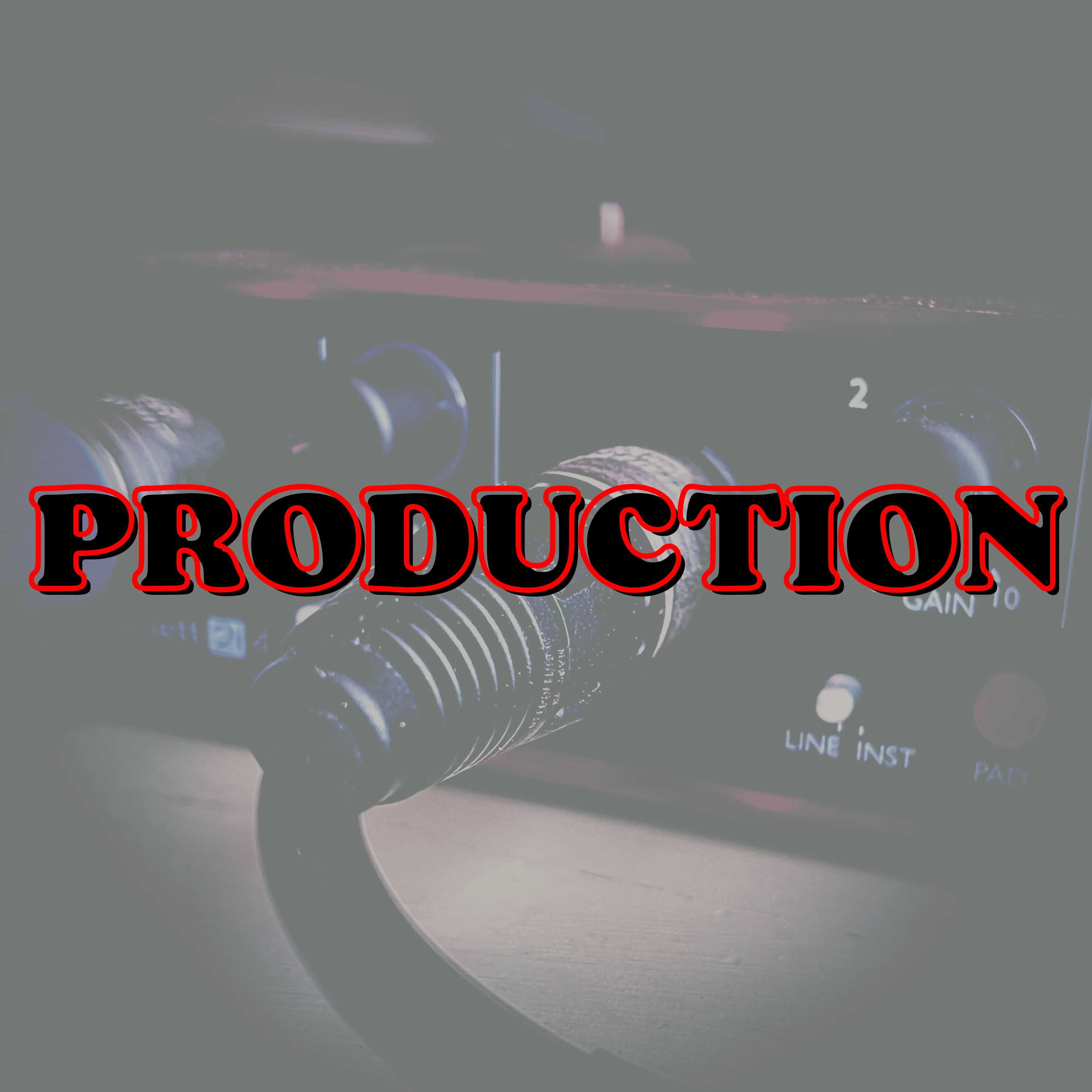 Sometimes people ask me, "What does a music producer do?" I've noticed a fairly wide gulf between what people think a record producer does (and is responsible for) and what a producer actually does. So I decided to write about it today. See if I even know what I'm talking about.
Did you know I consider myself a music producer as well as a songwriter and performer? Different distictions. Different hats. Hats on hats on hats. Christ! All these hats!
Anyway…
The Completion Ensurer
In music, the producer is the person ultimately responsible for ensuring the completion of the musical project.
Maybe this person plays an instrument. Maybe this person plays multiple instruments. Maybe they've never touched a musical instrument in their entire life. They may or may not have audio-engineering skills. It's possible this person really knows their way around a console. It's just as likely this person has no idea what any of those knobs or faders does on the console. Also, "What's a console?" they may ask.
A producer in music may or may not have good taste in music. But they definitely have some kind of defined taste. Probably. Unless they don't. Doesn't matter. They are there to get the record made. That's it.
He Foots The Bill, Most Definitely
Taste is the thing Rick Rubin has. That and lots of cash and a world-class studio space and access to teams of some of the world's most talented engineers and audio professionals. And he doesn't work with dud artists; only artists with solid track records and established fan bases. And his productions are associated with budgets the size of which allows for them to be sent to mulitple expensive mixing engineers. "Let's have the three best mixers in the world mix the record independently and then pick the best one. Money is no object." The privilege to be able to do that! So there are a lot of things going for that guy. 
Plus, Rick Rubin definitely plays up the whole idea that he has no technical skill or musical ability. Come on! He played in bands in his youth. He played guitar on License to Ill. The guy is professional-wrestling stan, so take what he says with a grain of salt. It's show business. At the end of the day, though, "Double R" would probably still be an effective producer, whether he could play an instrument, operate the console or not. He completes projects. That's the only thing that matters with regard to whether someone is a good record producer or not.
Producers vs Producers
A producer in music may be capable of operating more or less by themselves. Or they may have a team of people with whom they prefer to work: engineers, session musicians, tape ops, gear geeks, vibe merchants and the like.
Some producers are present throughout the process, never missing a note. Other producers are there only when they need to be. It doesn't matter. As long as the record gets made.
Some music producers are songwriters, too. And they get credit for it. Others are not songwriters, but they still get credit for it. Some producers create the entire track, leaving only space for the vocal performance. Some producers don't create anything. But they all ensure the making of the record gets done.
Sometimes a track has multiple producers. Sometimes multiple tracks have a single producer. As long as the thing gets produced, it doesn't matter how many people were required to flex their production skills.
A producer is not an engineer, but they might have engineering skills. A producer is not a mixer, but they might also mix. Different hats. Different roles.
A producer in music can be an ally of the artist, an ally of the record company, an ally of the music or totally self interested or any combination of these things.
Producers in music enjoy more financially lucrative careers than artists. They can work on many multiple projects a year. And they get paid what they get paid as their fee. And then they earn royalties, without having to recoup or repay an advance. Anywhere between one and five points, depending on various factors. It adds up! Especially if a record producer can score a hit or two along the way.
Because the goal of the producer is to get the record made, they may need to do what they gotta do to get it done. Which could mean hiring people to replay the parts a band could not be bothered to play properly. And not always with the blessing of the band. Most often, it's the drummer who is the band's weak link. And in the studio, time is money. And the producer has shit to do. So let's get a drummer in here who can bang out the tracks. Give the ol' Russian Dragon over there $50 and send them to the mall or something. They probably won't even notice. Get the record made.
The producer is there to serve the songs, ideally. Which is difficult because everybody has a personal agenda in the studio. Upon playback the singer only listens to the singer. The guitarist only listens to the guitarist. And so on. The producer is there to listen to the whole song. And then to tell the bass player that their part is good and we're moving on. After all, you're just the bass player. You're important, but this thing is not about you. This is a situation a good music producer knows how to handle. With finesse. Or not. Just finish the record.
Some producers have their own "signature sound." Others do not. Some are shapeshifters. Some producers will prioritize capturing the authentic sound and feel of the artist. Others prefer to shoehorn the artist's art into a well-established production sound and style. There's no right way. As long as the record gets made.
Some artists are also skilled and effective record producers. Some are not. Some artists are skilled at producing others, but horrible at producing their own music. Sometimes it's the other way around. A lot of artists want nothing to do with production. A lot of artists want too much to do with production.
Inexperienced, not-yet-established artists often give the recording engineer/studio owner credit as "producer" on their first recordings. This is typically too generous. The artists in these cases don't realize what they have done is produced themselves! The engineer was just there to capture the performances the artist produced. Important, but it's not production. The engineer is getting paid for their time. Makes no difference to them, really, whether the record gets finished. A lot of projects pass through their studio doors. They do all right by avoiding stepping into the producer's role. Different job. Different hat. Different business.
Matt Kollock, Record Producer
I am a record producer. I am also a songwriter, artist, engineer, mixer, vibe merchant and repair technician. But music producer is the main thing I do. It's home for me. Making records. It's really the thing I've dreamed of doing the most. Since boyhood. Since I learned what all the different people in the recording studio do.
I've been producing for myself for a little while now. Out of necessity. DIY is the name of the game over here right now. Not a very significant body of work yet, but I think it's where my greatest skills and talents reside. For me, I bring a lot to the table as a producer. But the most important thing is that I actually get shit done. I get the projects completed.
I know how to move beyond the initial rush and spark of inspiration and into the sleeves-rolled-up work of making a record, making it sound ALIVE and then finishing the fucker.
This year, I am excited to be able to bring a lot of productions to life. DO YOU FEEL IT TOO? is available already. Family Plot is almost ready to be removed from the oven. And there's a lot more on deck, too.
What I really want in 2023 is to produce for others. I used to be one of those artists perpetually working an their single, EP or album. For decades. You know the type. Then I had a bit of a breakthrough with microorganism. Now I feel like I actually know what I'm doing, and what I'm doing is what I was put here to do. So now I want to produce for you.
Interested in having me produce your next single, album, EP or whatever? I would love to talk to you. Figure something out. I want to help you get that thing completed. Get it out there.
Email me. We'll talk. I'm excited!
---
What I'm Listening To
I listened to the latest release from Black Belt Eagle Scout – The Land, The Water, The Sky – while writing this blog post. Track 10, "Spaces," is a highlight for me. Check out the album! It was produced by Takiaya Reed along with Katherine Paul (aka Black Belt Eagle Scout):
---