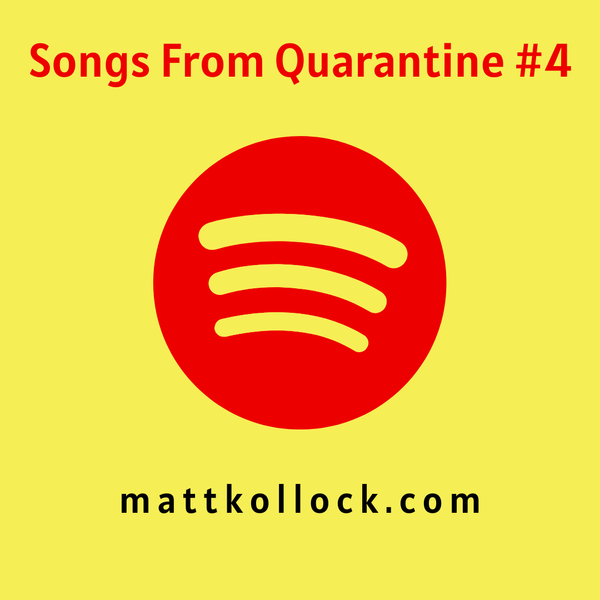 Well, it's been quite a week, hasn't it?
Shit keeps getting realer and realer. In all the worst and best ways.
I am grateful for so many things right now. I hope you are, too.
Lots and Lots and Lots of Matt Kollock News
Before I introduce this week's playlist, I want to let you know a little bit about what's going on in my world.
I feel like I have been activated. There's something about what's going on in the world right now that makes me feel empowered. Like now is the chance for me to have an influence on the way the world turns out after feeling more or less powerless for so much of my life. I've been powering through at full speed with all of my creative endeavors. All at once. And it feels amazing!
The Matt Kollock Show Is Here!
As you may have noticed, I launched my podcast, The Matt Kollock Show, this week with two episodes. Episode One features me going on and on and on about myself. Then I get into my song, "Hopeless Horse," and the story behind it. It was fun to make and I bet it will be fun for you to listen to.
The second episode of the podcast features my interview with Melissa and Jason Kadinger of the duo Meri Dean. I love those guys and I bet you will, as well. We make music together sometimes. This time it was conversational music.
Later this week, I'll be dropping episodes three and four of the podcast, featuring interviews with Albuquerque-based singer/songwriters Melissa Rios and Kira Holt, respectively. I am VERY excited to share these conversations with you, friends.
Moving forward, I'll be putting out one episode a week. Probably making them available on Mondays. I just wanted to get the first handful of 'sodes out there so you can get a feel for what the show is all about. Plus if you're like me, you're just hungry for shit to consume right now. So yeah.
Right now, the podcast is available exclusively from my website, which is where you are located now. But it will be available on Apple Podcasts, Spotify and wherever else you like to grab podcasts. I will keep you posted!
I Released My First Official Single!
Speaking of the availability of my output, I also released my very first official single as a solo artist. It's the theme from the podcast! Synergy! Branding! All that!
You can hear "Theme From The Matt Kollock Show" here on my website by using the audio player at the bottom of the page. You can also listen to it on Spotify, Apple Music, Deezer or wherever you get your music. iTunes, Amazon. All those. And, of course, more music is coming soon. Very soon. This is only the beginning!
If you listen on Spotify or one of the other streaming services, can you do me a favor and follow me? That is probably the most helpful thing you can do for me right now, other than just continuing to be such a rad person. Thank you!
Okay. Let's Do This Playlist
All right! We made it!
Friends, this week's playlist begins with the song that dominated life around this house over the last several days – the aforementioned "Theme From The Matt Kollock Show." Good times!
I recorded, mixed and mastered this little ditty in one day. I just wanted to get it done. It turned out well enough that I decided to make it my first single. So I uploaded it to my distributor, DistroKid, set up my artist profiles and here we are.
It feels good to finally have music available for people to hear. I have to admit I'm pretty proud of myself for making it as a musician with no recorded music available for so long. Cool trick! But yeah, I'm pretty pleased with this little tune. It does what it's supposed to. It's kind of annoying. Deliberately. The guitar solo part is dumb and over the top. Just like I meant it to be. I feel like it's the perfect audio landscape to build the podcast on. A house of irreverence built upon a sturdy foundation of fundamentals. I hope you like it.
The rest of the playlist features just a bunch of the usual shit. Not as much variety this week. I settled into what I've been digging the most lately: The Grateful Dead, Ween, Phish and Gospel. But it's working. It's really, really working.
That's not all the playlist contains, though. There's some new shit from Thao, Phoebe Bridgers, Field Music and Johanna Warren. Lots of fun surprises, too! As you've come to expect, this playlist contains 66 swell songs. This time the 66 songs cover five and a half hours. Perfect for taking the day to lie in bed with your headphones on.
I hope you enjoy it!
I will see you next week with another one of these motherfuckers. In the meantime, stay safe and stay well.
---