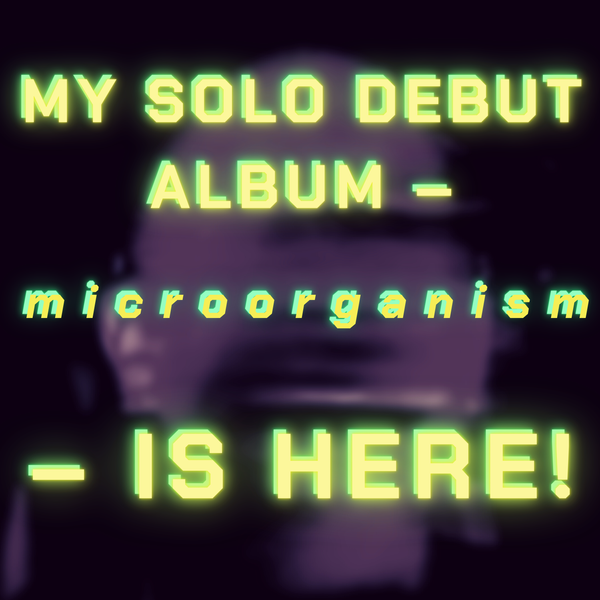 May the 14th be with you!
It's the day. Today. Today is the day. Today the album is released. It's out there. Available. Ready to experience. Fuckin' A.
I conceived this album exactly 14 months ago. It was a different time. A less hirsute time. Now that we are through the epic gestation, I am feeling as relieved and content as I have ever felt. microorganism, my solo debut album, is in the world!
Here's How You Can Hear
There are lots of ways you can get the album and listen to it. Some of them involve buying it. Others involve no cost at all. If you need help finding it where you are, reach out and I will try to assist.
Here is a list of the places where the album will be available. I think it's pretty exhaustive, but I'll update as needed. I'll be updating the links, too, so watch this space!
So many platforms!
As you listen on your preferred platform, why not follow along with the lyrics? That would be fun, I think.
Go Beyond microorganism
As you're listening, be sure to check out my Patreon, where lots of cool, exclusive content lives. I'll be posting some behind-the-scenes stuff from the making of microorganism in the coming days, weeks and months. This album was documented pretty damn well, I have to say.
Also, make sure you check out and support Annie Sanchez, my partner in life and a major contributor to the album. microorganism does not exist without her!
Have you heard my podcast, The Matt Kollock Show? Episodes 20, 21 and 22 are all about the making of the album. I go deep into the individual songs. I also relate (with some assistance from Annie) the oral history of microorganism's making. Sweet! Episodes 21 and 22 will arrive later on album-release day, so stay tuned to hear the full story.
You can also follow me on the aforementioned Bandcamp. It's a great place to follow my career and support my shenanigans by purchasing music, merch (coming soon!) and more.
Thank you, thank you, thank you!
This has been a fine and wonderful journey, friends. I'm so glad we've been doing it together. Enjoy microorganism!
---